SAAS Friday Email: MLK Day, Spring Sports, Safety Update, Parent Education and More!


Hey Cardinals, Sign-ups for Spring Athletics is Now Open!
Spring is just around the corner and that means tennis, golf, lacrosse, Ultimate, track & field and more! Please click on the button below for our Spring Sport Interest Form. This will help our Athletics staff plan accordingly for each sport/team. The deadline for this form is next Friday, January 21, 2022.
Upper School Spring sports starts on February 28th. Middle School Spring sports starts on March 14th. If you have any questions, please email our SAAS Athletic Director Cathy Schick. Thank you - and go Cardinals!
Reminder: Middle School Basketball Skills Program & Weekend Clinics!
Weekend (and non-school day) clinics provide an opportunity for all Middle School teams to take part in specialized skill trainings and tournaments (again, for current SAAS athletes only). These weekend events will require advance sign ups. Please click the button below to sign up your Middle School player for the next couple weekends. If you have any questions about these events, please email our SAAS Athletic Director Cathy Schick.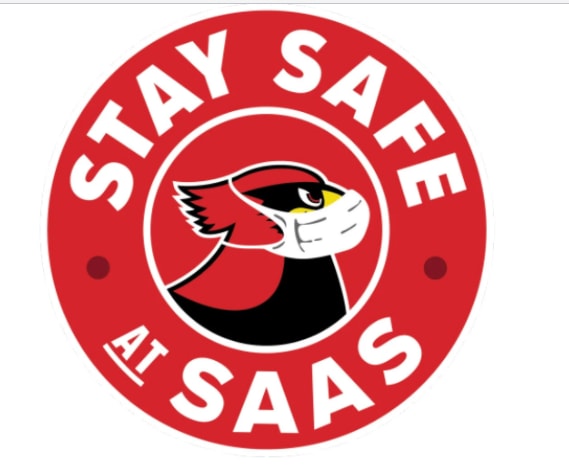 SAFE at SAAS: COVID UPDATE
Thank you for all of your continued efforts to keep your/our kids SAFE at SAAS. Many of you have participated in testing, have kept your kids home when symptomatic, have called to ask great questions, and been actively engaged this week. We need this partnership with you and continue to appreciate our SAAS community who work in support of each other!
UPCOMING TESTING DATES
For all students who have NOT tested on campus this year, please make sure you register using the button below. Reminder: All Upper School Winter Trimester athletes are required to test on these dates. Middle School Winter Trimester athletes are encouraged to test. Anyone who has been identified as a close contact should sign up for testing.
CLICK HERE TO REGISTER
if testing for the first time on campus
Tuesday, January 18: 3:00 PM - 7:00 PM
Thursday, January 20: 3:00 PM - 7:00 PM
Monday, January 24: 3:00 PM - 7:00 PM
COVID POSITIVE CASES
We are monitoring and helping guide isolation periods for students, faculty, staff, and service providers. Our COVID positive case breakdown follows:
17 students and 3 adults tested positive for COVID from January 7 and 8. These cases listed above are reported to Public Health and attributed to Seattle Academy.
16 students and 5 adults tested positive for COVID during the week of January 9 (through January 13). These cases listed above are reported to Public Health and attributed to Seattle Academy.
SAFE AT SAAS: UPDATED ISOLATION GUIDELINES
Effective immediately, Seattle Academy will be moving to the reduced isolation requirement for individuals testing positive for COVID in Washington K-12 schools. Isolation is necessary after a person has been diagnosed as COVID positive regardless of vaccination status. The details of the updated isolation guidelines can be found on our Safe at SAAS webpage.
We strongly encourage the use of rapid tests (at home) before returning to campus after the 5-day isolation period. There are possibilities that the virus is still actively transmissible after the 5-day time frame, so the best approach is to use an antigen test to determine if additional isolation time is needed.
If you have any questions, please contact our Safety Team (safety@seattleacademy.org). Thank you!
SPARRC: SAAS Parents/Guardians for Awareness, Race Relations and Community - (Remote)
SPARRC is excited to offer this valuable two-part anti-racism workshop. Brenda Suazo of Offshootz facilitated a similar workshop in April 2021. Based on parent feedback and requests for more opportunities to continue this work, we are happy to have Brenda back. The January 19th workshop will focus on understanding identity, intersectionality, and systemic power dynamics. The second workshop on March 23rd will focus on understanding the impact of specific (un)conscious biases on the individual, interpersonal, and systemic levels. Both workshops will be interactive with time for large group and small group discussion.
Please RSVP for this remote event using the button below.
For more information, please contact sparrc@seattleacademy.org.
Parent Education: Helping Teens Find Belonging- "Cultures of Dignity on Building Community"
Building a culture of dignity in our SAAS community! Dignity is our way forward to build strong relationships!
The reality: Our children will be exposed to or involved in events where they themselves or their peers may behave divisively and possibly hurt people! Sometimes they will see events in real life. Sometimes they will see such events as memes or videos on the internet. Some kids will mimic divisive and/or destructive behaviors they see. How do we as parents engage with our children in these circumstances? What are best practices when they are targets or bystanders of divisive or damaging rhetoric or actions? How do we teach our children to rebuild from places of error, missteps or hurtful experimentation?
On February 1, let's gather and zoom together with Rosalind Wiseman, parenting educator and author, who will speak about the practice of using dignity to guide students in their interactions with each other.
Please RSVP using the button below. For more information, please contact Julie Nichols.
SAAS in the City is Set For March 26, 2022
Join us at this year's SAAS in the City! We are back in person for our signature community gathering and fundraiser that celebrates the transformational impact of a SAAS education. Donations at SAAS in the City will support Financial Aid to ensure all students can participate in the full SAAS experience. We are excited to host this event at the fabulous Fremont Studios, the perfect party space for us to be together and enjoy amazing performances by our talented students and alumni. Look for more information in the new year, but for now please save the date.
If you have any questions, please reach out to Kristin Wennberg.
Monday, January 17
Martin Luther King, Jr, Day - No Classes
Friday, January 21
Winter Trimester Mid Term - No Classes
Wednesday, January 26
Winter Families Association Meeting 7:00 PM
More information to come! Questions? Please email Communications.