SAAS: On Campus COVID-19 Testing this Weekend & SAAS Vaccination Updates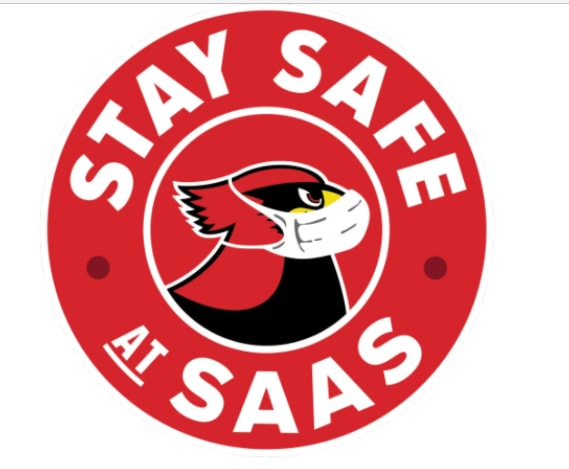 ---
Free On Campus COVID-19 Testing This Saturday!
We ask you to do your part for SAAS's community health by getting tested for COVID-19 on a regular basis, regardless of your vaccination status. Not only is this testing a conscious effort on behalf of our school, but also one for the greater community. Testing continues to be provided at no charge, and our staff works hard to ensure this process is smooth and efficient.
---
We also strongly encourage the following to be tested on a regular basis:
6th grade students
athletes
post-retreat participants
anyone who has been identified as a close contact
those with higher risk vulnerable family situations
To help with this request, Seattle Academy will conduct complimentary walk-up and drive-through COVID-19 PCR testing for all Upper School students, faculty, and staff on the dates and times listed below. Testing will take place in the SAAS East Spring Street Garage. Please review the available times below and sign up for a time that is convenient.
Please Note: If you have never participated in on-campus COVID testing, you will need to register your information through Altius by clicking the bottom red button below. If you participated in the past, you do not need to register; only need to sign up for a testing time (top red button). Each student, faculty, or staff member getting tested needs to sign up for a time slot.
TESTING DAYS AND TIMES:
Saturday, October 9, 2021 - 8:00AM-4:00PM
TESTING LOCATION: SAAS E Spring Street Garage. Approach campus southbound on 13th Avenue between E Union and E Spring Streets. Please follow the direction of the traffic management personnel inside the garage.
Click Here To Sign Up For Testing On Campus
Participant Registration (only if you did not participate in '20-'21)
---
Updates on SAAS Vaccinations, Testing and Cases
Vaccinations
Adults – 99% of our faculty/staff/daily service providers like food service, bus drivers, janitorial and security have been fully vaccinated. The remaining have provided a documented medical exemption.
Students – 97% of our eligible students have been fully vaccinated.
COVID-19 Testing
Just under 1,200 (1183) SAAS students and faculty/staff members have in past two weekends with no positive results. Thank you all for being SAFE at SAAS! All students and adults attending off site retreats last week for US and this week MS were required to be tested prior to their departure and all were negative. We plan to continue offering testing post and pre event throughout Fall Tri including another drive through option this Saturday.
COVID-19 Positive Cases – An Update from Friday
We have received notice of 2 additional US cases since our report on Friday and have been guiding families as they begin their isolation. All students and adults who were identified as close contacts were notified within 24 hours of our being informed. This 24 hour notification is our requirement and our commitment to our students, families, and SAAS community to inform as soon as possible so that we can start isolation, monitoring, and/or quarantining quickly to reduce the chances of transmission.
Keeping our community safe at SAAS is a partnership with all of us and early communication is key!
PLEASE have your child stay home and make safety@seattleacademy.org your first contact if–
Your child is experiencing symptoms
Your child is being tested for COVID-19 due to exposure or symptoms
Your child has tested positive for COVID-19 – please call the SAAS safety line immediately at: 206-676-6868
This early notification is SO important and helps us start identification of close contacts, notification of those directly impacted in 24 hours or less, and ultimately helps us be safer at SAAS. We can do this!