Message from SAAS Board Chair, David Sheppard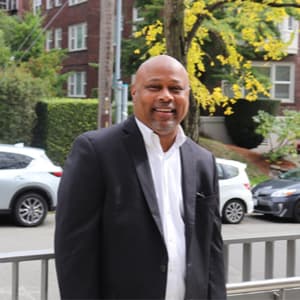 Dear SAAS Community,
SAAS is off to a great start of another school year. We've cheered teams at Fall Mania, attended Back to School nights, and engaged in other parent and school-related activities. We're at the point in the Fall trimester where our students have completed their mid-term exams.
With all that behind us, I wanted to take this opportunity to introduce myself and share my excitement to serve as the incoming Board Chair for Seattle Academy. I also want to share some priorities the Board of Trustees will focus on this year.
My wife, Kelly, and I have a daughter, Maya, class of 2023, just starting her Upper School experience. Entering SAAS in the 6th grade, Maya loves being at this school, and she's developed a passion for volleyball since she was introduced to the sport her first year at the school. She excels at math and loves music, both of which SAAS nurtures.
My background is in performance auditing, and I am currently the Regional Inspector General for the U.S. Department of Commerce and formerly the Inspector General for the Denali Commission in Alaska. I have deep experience serving on education-related boards. Prior to accepting the role as Board Chair for SAAS, I served on our board's Finance Committee and chaired the Strategic Planning Taskforce. I am also a board member of the Morgan State University (MSU) Foundation and recently joined the Advisory Board of the Evans School of Public Policy and Governance at the University of Washington. From 2014 to 2017, I was an advisory council member of MSU's Earl Graves Business School. I also served as a board member and chair of the Giddens School from 2011 to 2015, where we successfully shepherded the school through its reaccreditation, hired a new head of school, and maintained one of the highest financial aid percentages amongst independent schools in the city.
I'm honored to step into the role of Board Chair following the tireless efforts of Donna Bellew, who served in this capacity for four years. During Donna's term, the school acquired the entire block between East Union and Spring Street and 12th and 13th Avenue, completed and occupied the Middle School building, successfully completed an ambitious capital campaign, approved a revised SAAS mission statement and strategic plan, improved SAAS's reputation both locally and nationally, in addition to many other accomplishments. I want to thank Donna for her service to SAAS and dedication to making our school a place where students, faculty, and staff question, imagine, and create in order to contribute boldly to a changing world.
With all we have accomplished over the past several years, there remains more to do. This year, our priorities include reaccreditation through the Northwest Association of Independent Schools, revising our statement on equity and inclusion to better reflect who we want to be, and working to meet SAAS's classroom and sports field needs. While the list is ambitious, I believe that we can make considerable progress with our talented and gifted Board of Trustees and the SAAS Senior Leadership Team with Rob Phillips.
Just as Donna relied heavily on the support of our families, board members, students, faculty, staff and other stakeholders, I too will need your continued support. I appreciate the well-wishes I have received over the past several months and I look forward to continuing the Board's excellent work in service of this community.
Sincerely,
David Sheppard
Seattle Academy Board Chair