SAAS Plan for Re-Opening in the Fall
Dear 2020-21 SAAS Families and Students,
Fall re-opening scenario planning has been taking place at SAAS since we announced our transition to online/remote learning back in March. The public health environment, guidance, and forecasts have changed periodically throughout these past four months, compelling us to re-evaluate and revise what were considered solid, thoughtful plans for the Fall. The concept of "pivoting" has influenced our mindset, language, and actions all along and will continue to do so.
Despite the ever-changing nature of the work, our planning has always been grounded in principles that our teams balanced when creating our plan for the fall. Touchstone concepts like Safety; Academic Quality/Continuity; Care & Concern for Faculty, Staff, Students & Families; Equity & Access; Financial Viability & Retention; as well as the ability to transition effectively between potential scenarios, guided our work. We will stay true to balancing these principles, and at the same time, we fully expect that our plans will need to be revised as we continue to learn more before school opens in the fall.
The cross-functional Fall Scenario Planning Committees have tirelessly evaluated multiple scenarios for Fall re-opening, taking into account social distancing requirements, space capacity, curricular priorities, and guidance from public health, OSPI, NWAIS, and WSIA in choosing a HYBRID model for reopening. We thank all of them for their individual and collective contributions.
Our plan covers our current thinking for the Fall Trimester, although we believe that many of the assumptions behind our Fall Tri plan will remain throughout the year. We look forward to your reviewing the plan with your family and to your forwarding any questions you may have. We invite those to be sent to SAAS2020FallPlanning@seattleacademy.org.
After your review and for our planning purposes, we ask that families complete this survey, which will give us insight into your current thinking for how your student will attend in the Fall. This survey does not commit you to any plan, as we know many things may still change, but the information will help us in understanding your current thinking. That understanding will, in turn, help us as we continue to plan for the Fall re-opening.
Welcome to our current plan for re-opening in the Fall of 2020!
FALL 2020 SCHEDULE INFORMATION
SAAS plans to re-open in the Fall following a HYBRID model. This model features:
On campus/in person learning - students will be scheduled to attend classes in person on the SAAS campus every other week on a rotating basis.
Remote learning at home - students will be scheduled to attend classes remotely every other week on a rotating basis. Families may choose to have their child attend classes remotely full time every week based on their family choices and circumstances.
Remote on Campus - we are aware that some families may be negatively impacted by the "remote learning at home" portion of our schedule due to family or work responsibilities. SAAS will provide a supervised, study hall service that will allow students to be on campus, in a central location while they're following their online class schedule. Students will have a socially distanced work space using their laptops and headphones to attend their specific online/remote class schedule.
Please Note: SAAS is prepared to transition all classes to full time remote for all students at any time during the 2020-21 school year, based on public health guidance, OSPI/Governor's direction, and/or SAAS-specific circumstances (i.e. attendance patterns). "Remote on Campus" services would not continue to be offered if a transition to full time remote at home should occur. We are also equally open to going back full time in person should the public health environment allow it.
SAAS students rotate between "on campus/in person" and "remote learning."
A rotating schedule between "on campus/in person" and "remote learning" is necessary for re-opening in the Fall in order to meet social distancing requirements and to limit exposure for students, faculty, and staff on our campus. We understand that most of us would prefer, in normal circumstances, to be all together on campus every day, but that is not our reality for the Fall 2020.
SAAS students rotate every other week by Division.
Students will be scheduled for every other week rotation between "on campus/in person" and "remote learning at home" by Middle School and Upper School Division groupings. The scheduling of rotations by Division cohorts allows us to keep age groups together, meets social distancing and space capacity constraints, and is necessary for faculty teaching schedules. Multiple cohort models were explored (grade levels, neighborhoods, families, etc.) for possible rotations before we chose the Division model.
The Fall Trimester rotation schedule is: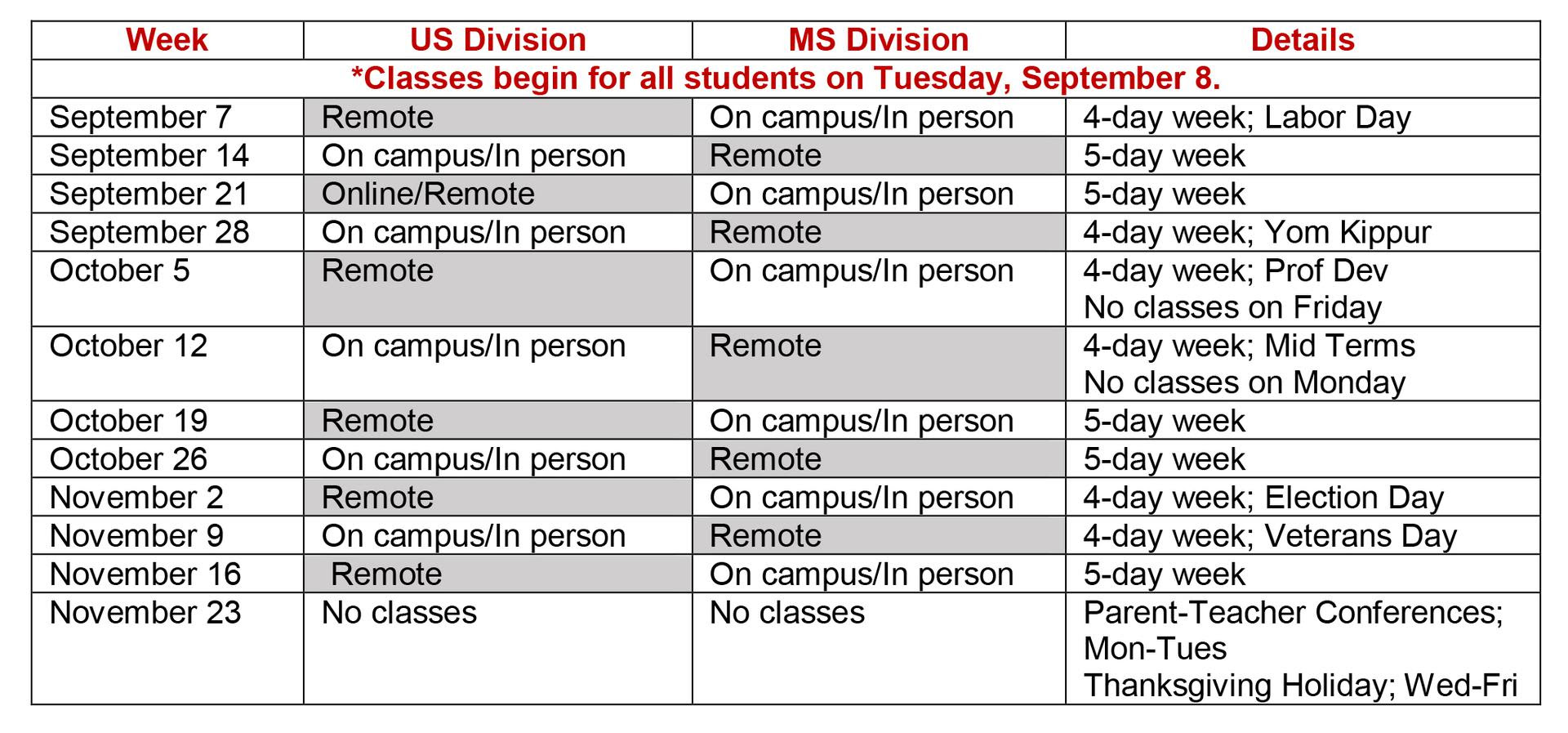 Daily schedules have consistent start and end times.
Classes will start each day at 8:15 and end at 3:15 each day. Daily block schedules are being finalized and will be provided during our July 17 communication.
Arrival time schedules and locations for drop offs and pickups for the "on campus/in person" rotations are also being finalized and updates will be provided during our July 17 communication.
Student orientation will be held for all students prior to classes resuming in the Fall.
Welcoming and orienting our students into this new, socially distanced, and hybrid learning model will be important for all students before classes begin in the Fall. Orientation will include walking through every students' schedule while training on social distancing, wearing masks, safety requirements, pathways, and answering questions students are sure to have.
Students should attend during their scheduled orientation session on the following days:
Specific times and agenda for student orientation days will be provided later this summer.
*Classes will begin for all students on Tuesday, September 8.
SAFETY PRECAUTIONS
SAAS is planning to re-open in the Fall knowing that significant safety precautions will be required. We are reviewing the ongoing and ever-evolving guidance for a safe re-opening in the Fall from local and public health, OSPI, the Governor's office, SAAS community health professionals, and from our own Risk Management Board Task Force. We will continue to prepare and modify our plans based on these insights. Training will be conducted during orientation for students, faculty, and staff as well as through topic-specific videos that will be shared before students arrive.
Our Fall re-opening plan currently includes the following safety precautions:
Social distancing precautions will be implemented.
In person classrooms, remote on campus spaces, convening areas, and common areas will be set up and scheduled in alignment with the 6-foot criteria. Classrooms will be organized through spacing and facing of desks to reduce the chances of virus transmission. Hallways and/or stairways that may not meet 6-foot criteria will be designated as one-way, and transition times will be staggered whenever possible to minimize exposure.
Masks/facial coverings are required to be worn on campus.
Masks/facial coverings are required for students and adults in order for schools to re-open in the Fall, and masks are now required to be worn in public in the State of Washington. Medical exceptions may exist for wearing a mask, and families may contact safety@seattleacademy.org to discuss accommodations as warranted. Additional information will be provided later in the summer about safe mask wearing practices and recommended face coverings for the Fall.
Sanitation protocols and environmental health precautions will be implemented.
Individual hygiene practices will be reinforced through safety communication in orientations, in classrooms, in training campaigns, and through facility signage, in order for students, faculty, and staff to exercise individual responsibility through hand washing and healthy personal habits.
Classrooms, common spaces, and high traffic areas will be sanitized throughout the day, with deep cleaning occurring each night and over weekends between rotational schedules. Our janitorial partner has undergone certified training in COVID-19 specific sanitation practices to prepare for the Fall.
A review of the HVAC systems in our buildings is currently underway to improve building system ventilation where necessary. Procedures that maximize the use of fresh air whenever possible will be put into place for faculty and staff to deploy in the Fall, to improve airflow.
Programs are being evaluated and modified in support of a safe re-opening in the Fall.
It is the intention for all classes to be offered both "on campus/in person" and "online/remote." Deans and Department Heads overseeing classes that may be higher risk such as vocal music, dance, and PE are reviewing how to safely conduct these classes, taking into account social distancing, creative use of outdoor or large spaces, and curricular choices. Information related to risks and our mitigation of those risks will be shared at the time students receive their schedules, so that families can decide about their student's involvement.
In addition, all programs are evaluating the use of shared supplies and equipment, such as lab equipment in science and materials in the visual and media arts, in order to reduce the amount of sharing or to put sanitation protocols in place to mitigate any risks associated with sharing. Information will be provided on these measures, as well.
Exposure protocols will be refined and communicated to students, families, faculty/staff.
Both internal SAAS and public health reporting protocols are being developed related to COVID-19. Testing, reporting, exposure, contact tracing, quarantine, and return to campus procedures will be implemented in consultation with public health officials and SAAS health advisors. Guidance is evolving in this area, and updates will be provided throughout the summer regarding our protocols.
EXTRA-CURRICULARS AND STUDENT LIFE
Gatherings will be limited/modified and, if "in person," will use safety precautions.
All meetings and large events will be hosted virtually or postponed. Back-to-school nights, parent conferences/meetings, tutoring sessions, visit days, open houses, grade-level meetings, college visits, faculty meetings, etc. will be online if scheduled for the Fall. There will be no in-person spirit events, performances, or manias.
Extra-curricular offerings will be limited and/or modified.
We will have a Middle School After-School Study Program that will occur with social distancing requirements and safety measures. Our current plan is for clubs, in both divisions, to meet virtually during remote weeks at designated times in the daily block schedule.
After-school arts, athletics, and other programs are under review. Addition information will be provided based on WIAA, public health, and other affiliated associations. WIAA is identifying risk levels of their programs and, at minimum, are indicating a need for social distancing in events and practices and a strong likelihood that no fans will be allowed to attend.
No Fall travel or Fall retreats will be planned, and international trips will not occur during the 2020-21 school year due to the complications in planning, safety precautions, and the uncertainty that travel will be allowed during that time frame.
While Middle School sports are not affiliated with the WIAA, we will consider the risk factors provided by the organization when considering what to offer to our Middle School students. While we do not fully know the scope of what we will be offering, there will be an intramural opportunity over the course of Fall Trimester.
No visitors on campus for the Fall.
No visitors on campus will be allowed during the Fall Trimester. This is to reduce exposure from the outside and impact on contact tracing reporting. Exceptions will include substitute teachers for on-campus, in-person classroom teaching or emergency repair/service response
Equitable access to technology will be supported.
In a Hybrid model that includes remote learning, access to technology is a priority. This Fall, the Middle School will switch from the use of shared classroom sets of Chromebooks to assigning the school owned Chromebooks to individual students to be used solely by one student. Middle School students will be allowed to take the Chromebooks home. The Upper School laptop program will remain the same as it has been since 1997 with Upper School students using student-owned laptops.
It is our plan to offer bus transportation.
It is the intention for SAAS to operate morning and evening bus routes for SAAS families. Guidance has varied significantly over the past few weeks on allowable bus ridership and safety precautions, and our final plan will take into account guidance from public health, OSPI, and transportation officials. We are currently evaluating this guidance, and we plan to communicate available routes, costs, and capacities before the end of July based on the updated information available to us at that time. The good news is that school buses have now been approved to use the West Seattle lower bridge
Lunch service will be offered.
Lunch service will be offered through SAGE, our foodservice partner, taking into account safety requirements. There will be no buffets, shared utensils, or products. Grab and go/lunches may be delivered to classrooms to avoid lines, and pricing will be simplified to reduce check out congestion. A closed campus for lunch is in our current plan but will continue to be evaluated. Additional information will be provided before the end of July on the specific services being provided.
OSPI GUIDANCE