SAAS Alumni Announcement
November 2020
Introducing Alumni Associate
Darby Frey
We hope that this message finds you healthy and well. Despite the uncertainties we face right now, Seattle Academy stands strong. Our dynamic community has met the recent challenges with positivity, innovation, and perseverance. We are pleased to share some highlights and updates with you, along with a request to reconnect with you, regardless of where you are.
It's with great excitement that we welcome Darby Frey as our new Alumni Relations Associate. Darby comes to SAAS from York College in Pennsylvania and has a background in alumni relations. She's excited to roll out new opportunities for you to continue to engage with Seattle Academy and connect (or reconnect) with each other. For example, to kick off the upcoming season of giving, join SAAS alums to launch a brand new community engagement program called Cardinals for the Community. You can positively impact an organization that is meaningful to you and share your experience with our community and each other.
To make sure you receive details on Cardinals in the Community and for other exciting opportunities to come, please update your contact information using this link. We look forward to reconnecting with you!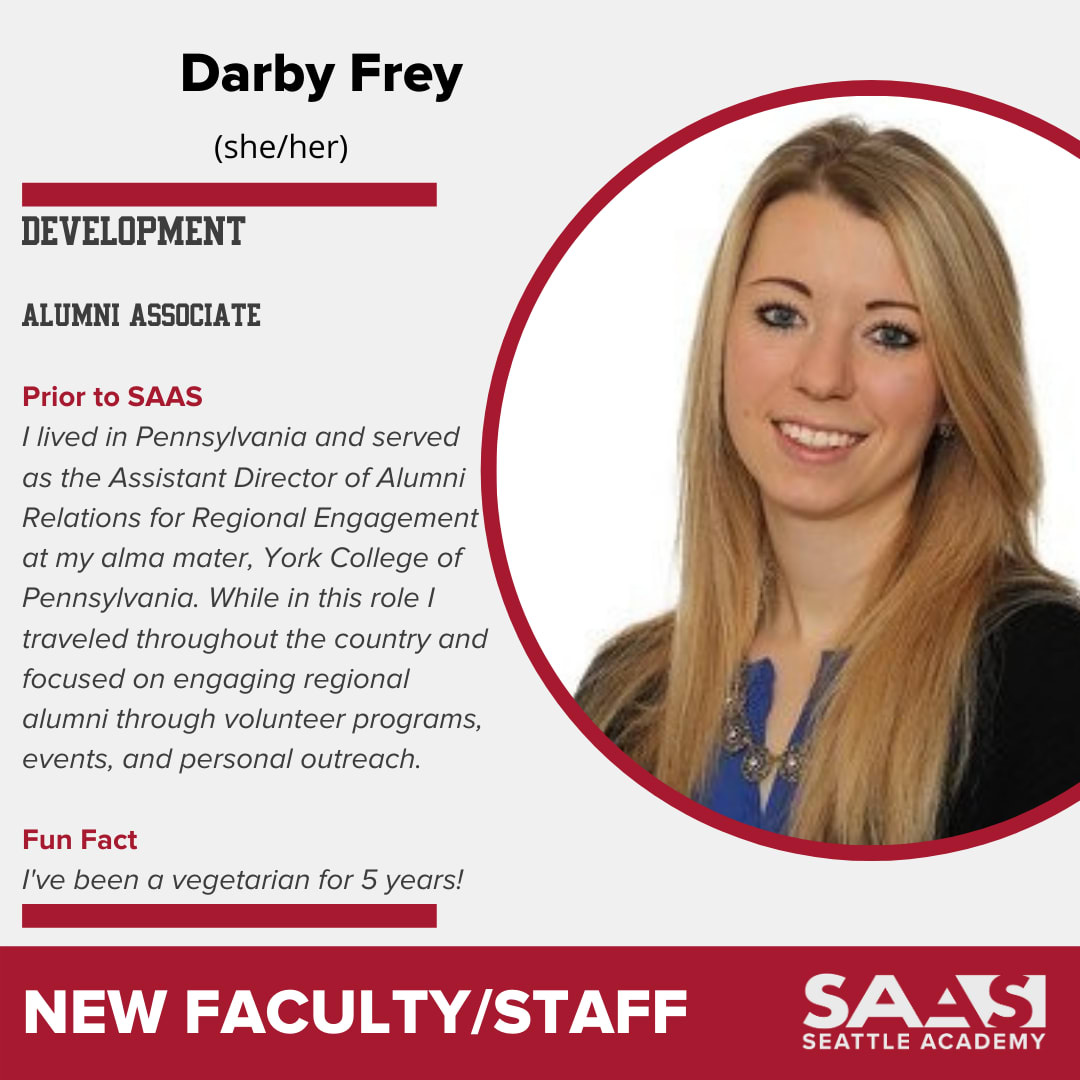 Financial Aid Fund added to Annual Fund
The economic impacts from the pandemic has forced many of our current families to request financial aid to keep their students at Seattle Academy. To support these families and to keep our community whole, a Financial Aid Fund was created this fall as part of our Annual Fund. As you know, the Annual Fund is our primary fundraising effort to support our stellar educational programs. Even though we are starting this school year with remote learning, our funding needs remain unchanged. To learn more about this community-wide effort, please visit our Annual Fund page. We hope you will consider making a gift today.
Like many schools across the country, this fall, SAAS students are learning in a fully remote environment, connecting with teachers and each other in virtual classrooms. This remote mode will continue through the Fall Trimester to ensure our community remains safe. However, knowing the importance of socialization in student development, SAAS has created innovative, safe ways to allow students to gather in small groups for outdoor, in-person community building, and social interaction. Favorite events like Fall Mania and the Upper School Musical have gone virtual as well. We are hopeful that public health data will allow us to bring students back to campus later this year for small-group grade-level retreats.
As our city and nation confronts deep issues concerning racial injustice and police brutality, SAAS has taken a stand. The urban location of our campus has magnified Seattle Academy's connection to it all. We have been challenged as an institution to reconsider our assumptions, to listen and learn, and to embrace change in our own community. Under the leadership of our Head of School, Rob Phillips, SAAS has created several working groups to review current practices, to share ideas and concerns, and to recommend paths for a future mission-driven, vibrant, and safe campus. We look forward to sharing more on these efforts with you in the coming months.

In the meantime, we hope that you and your family stay healthy and safe in these unusual times.
SEATTLE ACADEMY IS A DYNAMIC COMMUNITY THAT CHALLENGES STUDENTS TO QUESTION, IMAGINE, AND CREATE IN ORDER TO CONTRIBUTE BOLDLY TO A CHANGING WORLD.
Seattle Academy | 1201 E Union St. | Seattle, WA 98122